This memorial website was created in memory
of our beloved son & brother Jimmy Brozzetti,
Jimmy was born in Scranton, Pennsylvania
June 3,1985 and passed away February 6,2006
from a single car accident at the age of 20.
Jimmy will always be remember & will live
in our hearts forever
Thank you for visiting, Please light a candle or leave
A tribute for Jimmy, Keep his memory alive
"You can try to rewind time
But in your hearts and your minds
I will never die
I am forever alive
And I continue growing"
No words are needed, we shall never forget,
For those we love don't go away,
They walk beside us every day.
Unseen and unheard, but always near,
So loved, so missed, and so very dear
I don't think of him every day;
I think of him every hour of every day."
-- Gregory Peck, in an interview
many years after his son's death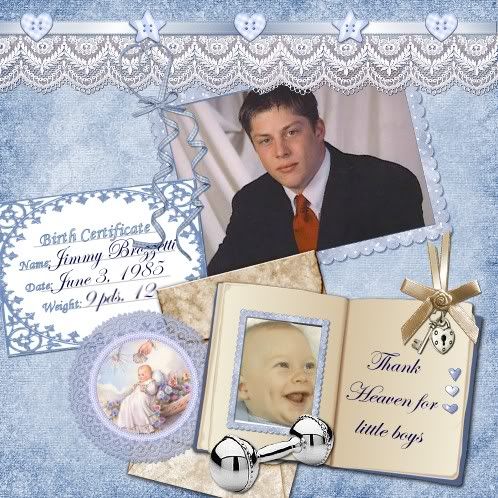 A Sadly Missed Son

I've come for a little chat,son
I know that you can hear,
whenever things are difficult
I always come back here.

I tidy around and talk to you
And think about the past,
All those precious moments
Destined not to last.

I feel your eyes upon me
As I turn to walk away,
And that little chat I've had with you
Gets me through another day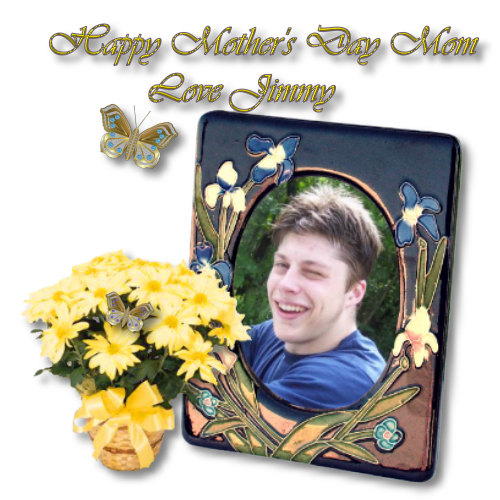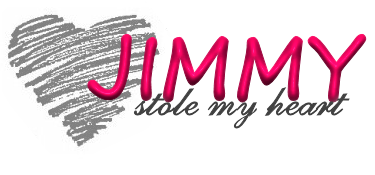 color="#800000">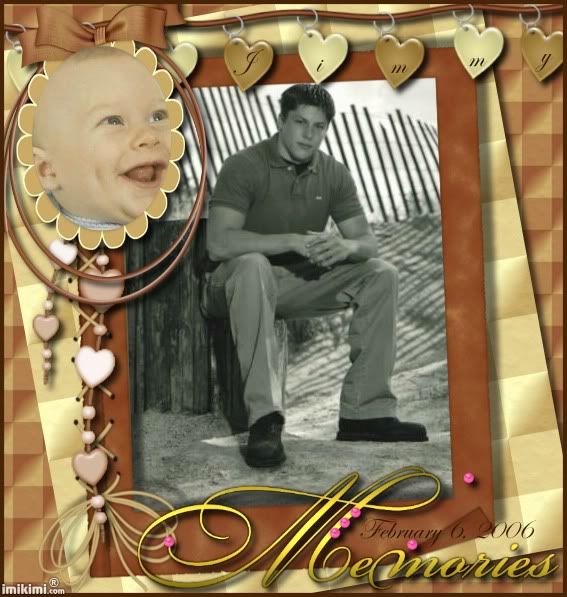 "Pennies From Heaven "

I found a penny today
Just laying on the ground
But it's not just a penny
This little coin I've found.

Found pennies come from Heaven
That's what someone told me,
Angels toss them down.
Oh, how I loved that story.

When an angel misses you
They toss a penny down,
Sometimes just to cheer you up
To make a smile out of your frown.

So don't pass by that penny
When you're feeling blue,
It may be a penny from Heaven
That an Angel tossed to you.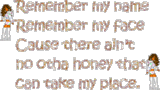 Till Healing Comes

"Because you're no longer here
It's like the lights have all gone out
and won't be lighting up this year.
And so this year I must be
just how it is I am.
So that soon my heart can heal
I'll do the best I can.
The only thing that I can do
is to stay present in the now,
to feel my grieving pain
and know I'll heal somehow.
As this year gently comes,
and as my heart is torn in two.
I'll open just a little bit
as I'm deeply missing you.
I'll trust the gift of life that's here
and trust that I'm ok,
and be with how it is right now...
..till healing comes my way
I LOVE YOU JIMMY♥♥
This memorial website was created in the memory of our loved one, Jimmy Brozzetti
Who was born in Scranton, Pennsylvania on June 3, 1985 and passed away on
Feb. 6, 2006 at the age of 20. We will remember him forever.

Jimmy died alone at 3:10 pm on Monday Feb 6,2006 in a single car accident
He was traveling back to school at Lycoming College when he swerved to miss
a moving automobile, lost control of his car and hit a tree engulfing the car in flames
Jimmy was killed instantly upon impact. I thank God everyday for that
. At least there was no pain and suffering. I don't think I could go on if I knew Jimmy
suffered we can barely believe that such a horrible thing has happen to us.
This has devastated our family and friends. Jimmy was loved by so many and
he left a hole in everyone's hearts our world will never be the same without him in it.

Jimmy was a young man who had so much to give and so much to do.
But in the short 20 years he was here. He did so much.
He loved life and enjoyed everything about it. Jimmy would walk into a room
and everyone would just smile as he always had a big smile and, his dimples
were beautiful. When I think I will never see that beautiful smile or hear that
voice again I die over and over again. But knowing with each new day I'm one
more day closer to being with him, puts some sunshine in this life of mine
I miss him so much, some days I feel that I don't have a heart anymore and
I'm dead inside.

I would like to think that Jimmy is safe now with his Nonie and Popie and,
living his life with God. I think of him sitting on top of a mountain so green
and beautiful.
I'm sure God had a special plan for him. In life Jimmy always put everyone first
, he always took care of his friends. They always could count on him for anything.
His sister and cousin where his best friends. Dina and Jimmy had a special bond,
even with 5 years between them. They would talk almost daily and tell each other
all their secrets. I remember when he was only 7 years old and someone
called his sister a name.
. He punched him right in the face and told him his sister was a princess and,
no one will ever call her any bad names again. Dina was the best sister to him .

Since Jimmy died my family and friends have been a great support to Dina & myself.
I would like to thank them all, from the bottom of my heart for all their help.
They listen to me everyday and they walk me through the long hard days.

A year without My Jimmy is like no life at all.
I know he would want me to live life to the fullest, and I try to go on for him.
But someday the road is just too rough.
So on this First Anniversary of your death all I can say is WHY??
And tell Jimmy I Love him so, but that is something Jimmy always knew.
We never hung up the phone, or he never left the house without a kiss, I Love you Mom.
So today I will tell my son over and over again I Love you Jimmy, and can't wait until
we are together again, please stay close to me everyday and night.

I will keep your memory alive; you will forever live in my hearts &
the hearts of those who love you.

May you be the sun that shines on us everyday & the stars we see in the sky .
May you walk by our sides each and every minute of the day.
You are so loved and missed by all.
May God give you a big hug everyday from me until I can give you one.
Please watch over your sister, cousins and friends. Keep the them safe

I Love You Jimmy
"A Butterfly lights beside us like a sunbeam, and for a brief moment, it's glory and beauty belong to our world. But, then it flies on again, and although we wish it could have stayed, we feel blessed to have seen it." Miss you Jimmy"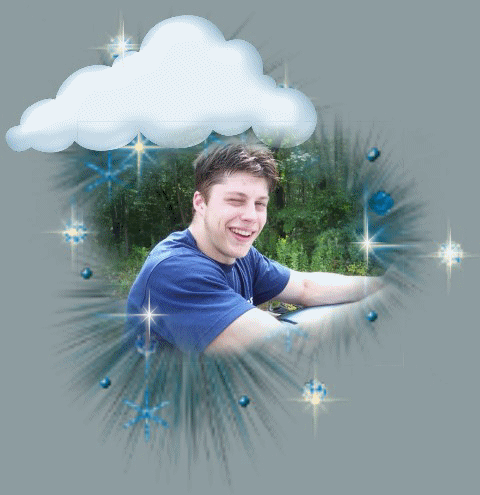 "ONLY THE GOOD DIE YOUNG"
Accidents happen, that's what they all say.
That's why you are gone, oh so far away.

A young life lost, to great heaven above.
Flying gracefully away like a beautiful dove.

A handsome guy, with a thousand great friends.
None of whose hearts will ever mend.

A bright young kid , always wearing a smile.
Always willing to sacrifice and go the extra mile.

Now he is safe, and away from all harm.
But we will all miss your amazing charm.

He is whispering to us now , for he is a bird.
So everyone listen, do not utter a word.

We all have a new angel, who has so much to give.
He will shower us with love and tell us to live.

Jimmy we all miss you. its been to long
Because it is true, "ONLY THE GOOD DIE YOUNG

What Is A Brother
A Brother Is Someone We Turn To
When We Have Things To Share
And Also Someone To Lean On
To Make Our Burdens Easier To Bear
A Brother Is Someone We Cherish
And Count On For Everything
He Is Always There for You
So Much Happiness He Will Bring
A Brother Is Always There
When Our Tears Are About To Fall
He Will Use His Loving Hands
And Wipe Away Them All
A Brother Is A Gift From God
He Placed You And I Together
For This My Brother I Want You To Know

You'll Be In My Heart Forever


Dina & Jimmy Forever

In a quiet country cemetery,
Where the gentle breezes blow,
Lies my son I love so dearly;
He died a while ago.
His resting place I visit,
Placing flowers there with care,
But no one knows my heartache,
When I turn to leave them there.
Though his smile is gone forever,
And his hands I cannot touch,
Still I have so many memories
Of the son I loved so much.
His memory is my keepsake,
With which I will never part.
God has him in His keeping;
I have him in my heart.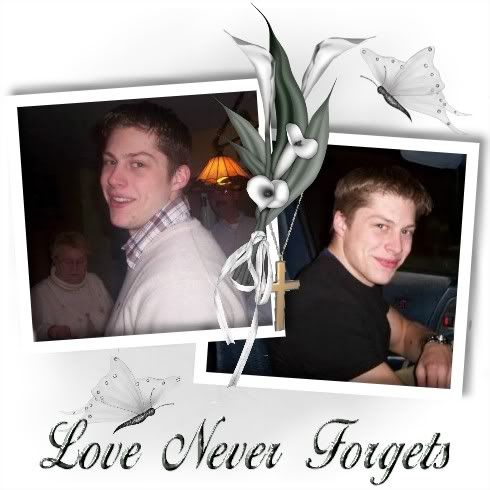 Child that loses a parent is an orphan.
A man that loses his wife is a widower.
A woman that loses her husband is a widow.
There is no name for a parent that loses a child.
There is no word to describe the pain.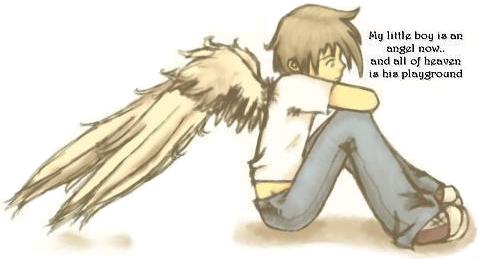 To lose a child is the most shocking and devastating tragedy that happen
could ever happen to a parent.
My heart is split in two, one side broken and the other left with Jimmy.
The suffering is endless; my heart was ripped from my body.
My love for Jimmy is so deep and I miss him terribly.
The special bond between a mother and son is so precious and
can never be broken. I will carry him in my heart until I take my
last breath

Jimmy and I had a closeness that was truly special that not
all parents get to experience and I am so fortunate to have
had that connection with him. He brought so much joy and
happiness to my life. I miss our chats about everything in his life
we spent a lot of time together and I feel so privileged that
everything Jimmy wanted to spend so much time with me. I admired
about Jimmy, from his charming wit, but also the tender kind gentle
soul he was and his zest for life He made me so proud of the
young man he became. Jimmy was a significant part of my life
and I am grateful for the many times and laughs we shared
that are so precious and the cherished memories I will carry with me forever.

My dream was to see Jimmy get married. My heart aches for his
sister Dina and the incredible loss she has suffered and also
must live with everyday. Their love for each other was unconditional.
Jimmy would have made a wonderful father and uncle he loved
children.

I am heart broken and my hopes and dreams have been shattered,
leaving a huge void in my heart that can never be repaired.
No one can mend a broken heart. A huge part of me died
that day with him. The emptiness is enormous and devastating.
I miss and love him more today than yesterday. I take comfort
though in knowing I will be reunited with him again
and we will continue where we left off. I love you my sweet Jimmy.
He was my hero , the love of my life, he was my son.



Dreaming about the Yankee in Heaven

A wonderful life, full of strife. Young , talented and intelligent,gone in instant.
The strain of going on how do we endure such pain?
Sometimes I think I'll go insane.
But God tells us, he will not give us, anything we cannot endure.
Does he believe in me, more than I?
Light a candle, pray for me For Jimmy for eternity. What's over there?
Does anyone ever stop to care. Is this life more than I can bare?
I have many questions, if I dare.
But first a hug & kiss from my angel Jimmy, whom I know is waiting there.




Were you one of the Lucky Ones?

Did you get to meet the one that lived
every day as if it were his last?

Did you see that smiling face,
did you hear his infectious laugh?

Did you know the one that had a hug
for even the ones that fussed at him?

Did you ever go somewhere and know
when the life of the party arrived?

Did you know the one that could make
the best of the worst situation?

Did you feel like you were a special
person around him?

Did you ever feel so loved?

Were you one of the lucky ones...
THAT GOT TO MEET MY SON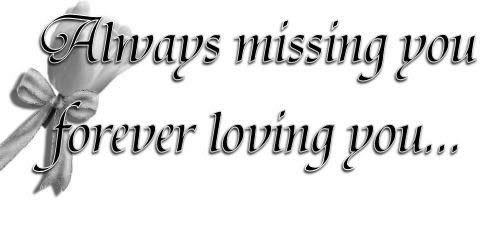 The truest words of all: I will not forget you.
You are in my waking thoughts,
my sweetest memories, my dearest dreams.
I will not forget you JIMMY
You have touched my soul, opened my eyes,
changed my very experience of the universe.
I will not forget you.
I see you in the flowers, the sunset,
the sweep of the horizon
and all things that stretch to infinity.
I will not forget you Jimmy
I have carved you on the palm of my hand.
I carry you with me forever



Letter to the World;

I have joined an exclusive club.
I did not choose to become a member of this club.
The Membership fees were far too costly
I would have never willingly paid the cost of admission.
What was the cost of admission?
The cost of admission was the life of my child.
The cost of admission was a broken heart.
I am a bereaved mom.
I will always be a bereaved Mom.
There will always be a part of my heart that is missing.
My broken heart will never heal.
I will never again be the person that I once was.
The person I was, died the day I lost my child.
I do not expect you to understand.
I ask that you be patient with me,
and remember, that my child DID LIVE








TO SOME I MAY BE NOTHING MORE THAN A DISTANT MEMORY.

MY LIFE ON EARTH IS OVER NOW, BUT DO YOU REMEMBER ME?

I KNOW I LEFT WITH OUT WARNING, BUT GOD'S WORK FOR ME HERE WAS THROUGH.

PLEASE DON'T TRY TO STOP THE THOUGHTS OF ME BECAUSE I NEVER WILL OF YOU.

SOME MAY HEAR OR SPEAK MY NAME AND VANISH THE THOUGHT OF ME,
WHY IS IT NOW THAT I AM GONE NO ONE STOPS TO SEE.

I'M CLOSER TO YOU NOW THAN I EVER WAS BEFORE,
I LOVE YOU ALL JUST THE SAME AND WILL FOREVERMORE.

SO,PLEASE DON'T LET MY MEMORIES SLOWLY FADE AWAY...
FOR I'M STILL INSIDE YOUR HEART YOU SEE,WHERE I WILL
ALWAYS STAY.

DON'T THINK OF ME AS GONE FOREVER BECAUSE SOMEDAY
WE'LL MEET AGAIN.

KEEP ME CLOSE INSIDE YOUR HEART UNTIL GOD TELLS YOU WHEN.

YOU MAY BE THERE FOR MANY YEARS NO ONE EVER KNOWS,
SO LET MY MEMORY STAY ALIVE AS THE LOVE INSIDE YOU
GROWS.

SOME OF YOU MAY WONDER WHY GOD CALLED FOR ME SOONER THAN YOU'D PLANNED.

BUT PLEASE DON'T BE MAD AT HIM,FOR I'M IN THE MASTER'S HANDS.

PLEASE REMEMBER ME WITH LOVE AND WITH EACH TEAR THAT YOU
CRY, REMEMBER I'M BESIDE YOU STILL,
THAT'S FOREVER WHERE I WILL BE.






I WILL LOVE YOU

As long as I can dream,
As long as I can think,
As long I have memory...
I will love you.

As long as I have eyes to see
and ears to hear
and lips to speak...
I will love you.

As long as I have a heart to feel,
a soul stirring within,
An imagination to hold you...
I will love you.

As long as there is time,
As long as there is love,
As long as I have a breath
to speak your name...
I will Love You,

Because I love you more than anything...
In all the world Jimmy.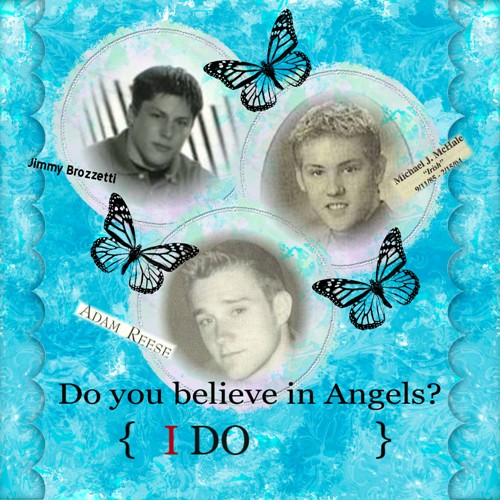 All that we can know
about those
we have loved and lost,
is that they would wish us
to remember them
with a more intensified
realization of thier reality.
What is essential
does not die but clarifies.
The highest tribute to the dead
is not grief but gratitude.

Thorton Wilder





Jimmy's Rookie Year

The angel league drafted you just one year ago
The Lord called you to His team and you had to go.
Our hearts were broken, we didn't know the reason
You left us far too soon for your rookie season.

As a rookie player on the greatest team of all
You must be very happy when you hear "let's play ball".
Flying around the diamond and touching every base
We can only imagine the big smile on your face.

We know that you're happy and no longer feeling pain
One day we'll sit in Heaven's bleachers, to watch you play again.
Cheering for our Jimmy, yelling out your name
Watching you, Jimmy, playing in Heaven's game.

Until the day we're together, patiently we'll wait
To join you on Heaven's field, past the pearly gate.
As the day approaches, that you left us, Jimmy dear
We are all hoping that you had the best Rookie year

Special Thanks to Dianne/jeanne House of Angels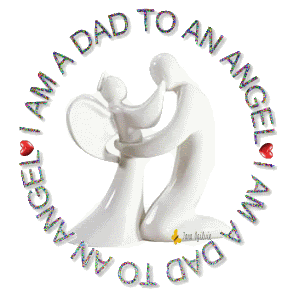 A Dad Hurts Too

People don't always see the tears a dad cries,
His heart is broken too when his child dies,
He tries to hold it together and be strong,
Even though his world's gone wrong,
He goes through his day doing what he's supposed to do,
But a piece of his heart has been ripped away, a Dad hurts too,
So when he's alone he lets out his pain,
And his tears come like falling rain,
His world has crashed in around him,
And a world that was once bright has gone dim,
He feels he has to be strong ,
But Dads hurt too, not just the Mothers,
He searches for answers but none are to be found,
He hides behind a mask when he is feeling down,
He smiles through his tears,
He struggles and holds in his fears,
But what you see on the outside is not always real,
Men don't always show how they really feel,
So I'd like to ask a favor of you,
The next time you see a mother hurting over the loss of her child, please remember.....a Dad hurts too.

.
I loved the boy with the utmost love of which my soul is capable of and he is taken from me - yet in the agony of my spirit in surrendering such a treasure, I feel a thousand times richer than if I had never possessed it."
-William Wordsworth -

Our loved ones are together in Heaven warmly embracing each other, as they joyfully look down upon us realizing how much we love and cherish them. They are saying it's alright now, we're happy and at peace... They are all gently whispering to us below... to those I love, and to those who love me, thank you for your eternal love; see you when you get here."
Popie ( John Naughton) May 1993
Uncle Frank July 2007
Little Eddie Naughton December 2013
Nonie Brozzetti 2001
Popie Angelo 1998
Stay a place for me Jimmy...Now you are with your Nonie and Popie Naughton...